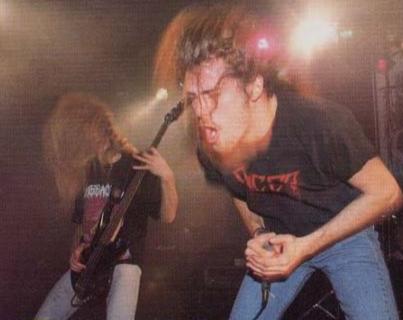 Cannibal Corpse'nin eski dönemini bilmeyen yoktur herhaldi. Ben bilmiyorum diyen varsa hemen gitsin, bulsun buluştursun dinlesin.
Sene 1992, Cannibal Corpse isimli grup Tomb Of The Mutilated albümünü yeni çıkarmış. Daha öncesinde Morbid Angel grubu Altars of Madness, Blessed Are The Sick albümlerini çıkarmış. Deicide grubu Deicide, Legion albümlerini çıkarmış. Incantation grubu Onward to Golgotha albümünü çıkarmış. Autopsy grubu Severed Survival, Mental Funeral, Acts of the Unspeakable albümlerini çıkarmış. Obituary grubu Slowly We Rot, Cause of Death, The End Complete albümlerini çıkarmış. Suffocation grubu Effigy of the Forgotten albümünü çıkarmış.
Dünyadaki çok büyük gruplardan çok büyük albümler gelmiş. Hepsinde de scream vokal ve brutal vokal dediğimiz hadiseler bulunmakta. Hepsi ya bağırıyor ya da hırıltılar çıkarıyor. Gel gelelim işte o 1992 yılında Chris Barnes isimli ağır piskopat ruhlu insan death metal tarihinde ilk defa baştan sona Guttural vokalle okunmuş bir albüm piyasaya sürüyor.
Tabi etkisi büyük oluyor. Almanyada yasaklanıyor. Cümle alem 87 lerde Thrash Metalin çirkef haykırışlarından yeni çıkmış. 90 larda Brutal Vokal denilen hırıltılı seslere yeni yeni alışıyorken 92 de bu ağır piskopat ruhlu şahsiyet guttural vokal yapıyor. Hemde tüm albüm boyunca. Varın siz düşünün etkisini. Herkesin beynine balyoz gibi iniyor guttural vokaller.
İşte ondan 1 sene sonra 1993 yılında Chris Barnes önderliğinde Cannibal Corpse konserler veriyor. Kritiğini yaptığımız şarkılar ise Meat Hook Sodomy diye adlandırılan bir bootleg. 1993 yılındaki bir Cannibal Corpse konseri kaydı. Chris Barnesi tabi herkes şu an rastalı haliyle biliyor. O zamanlar öylede değil.
Chris Barnes, Six Feet Under olayına başladığında saçlara rasta yaptırdı. Şeklen ve bedenen bir piskopata dönüştü. Fakat gırtlağı guttural vokalleri bırakıp, guttural vokale göre daha evcil olan brutal vokallere, hırıltılara devam etmeye başladı. Chris Barnes artık daha farklı işlerin peşinde koşuyordu. Cannibal Corpse'daki o vahşi gençten çok olgunlaşmış bir adam vardı artık.
Bakmayın siz Chris Barnes'in öyle piskopat göründüğüne. Eskiden saçlar rastasızdı. Deri Mont giyer. Eskimiş yırtık pantolonlar giyer. Slayer, Sodom kovalayan Thrash Metalci gençlik görüntüsündeydi. Görüntü olarak klasik thrashci gibi görünen Chris Barnes konser ortamlarına geldiğinde ise o ağır ruhsal piskopatlığını guttural vokalleriyle gösteriyor, herkesi dumura uğratıyordu. Guttural vokallerini milletin suratına balyoz gibi çakıyordu. Peki ya sözler, şarkı isimleri. Ağır ruhsal piskopatlığının göstergeleri. Hammer Smashed Face, Entrail Ripped From A Virgin's Cunt, Necropedophile, I Cum Blood vb. Adamın ruh halini varın siz düşünün. Hem bu şarkı isimlerini yazmış. İçeriklerini ruh hastası modunda sözlerle doldurmuş. Üstünede ağır ruhsal piskopatlığını gösterip yazdığı sözleri baştan sona Guttural vokallerle okumuş. Varın siz düşünün artık gerisini.
Eski Chris Barnes yukarda gördüğünüz gibi rastasız saçlarla, thrash metalci görünümde bir şey daha. Ama gözlerden anlayabileceğiniz gibi ruhu piskopat adamın.
Bu kadar sözden sonra artık bootlege gelmenin zamanıdır.
Konserde sırasıyla bu şarkılar çalınmış.
01 - Born In A Casket
02 - Living Dissection
03 - Put Them To Death
04 - Hammer Smashed Face
05 - The Cryptic Stench
06 -
Meat
Hook
Sodomy
07 - Edible Autopsy (1st Half)
08 - Edible Autopsy (2nd Half)
09 - Bloody Chunks
10 - Entrail Ripped From A Virgin's Cunt
11 - Shredded Humans
12 - I Cum Blood
13 - Covered With Sores
14 - Innards Decay
15 - Addicted To Vaginal Skin
16 - A Skull Full Of Maggots
Konserdeki kadro ise Tomb Of The Mutilated albümündeki kadroyla aynı. Oda şu şekilde:
Chris Barnes - Vocals
Jack Owen - Guitar
Bob Rusay - Guitar
Alex Webster - Bass
Paul Mazurkiewicz - Drums
Davulcu Paul amca bir yandan çift kroslar, bir yandan blastlar, bir yandan spa spalar takır tukur yardırıyor. O yıllar için dinleyenler dumur dumura giriyor muhtemelen.
Gitarlar bilindik Cannibal Corpse gitarları. Çatır çutur yardırmaca. Bootlegte tabiki albümdeki kadar pasparlak ve net çıkmıyor. Gel gelelim o kadarda sorun değil. Konser kaydının daha bir leş olmasından dolayı gitarlar daha bir leş geliyor kulağa.
Chris Barnes amca ise guttural vokalleri öyle bir döşemiş öyle bir döşemiş ki akıllara zarar. Gençliğin verdiği o gazla gırtlağa dakka soluk verdirmiyor. Şarkılarda guttural vokalle okuyan Barnes, seyircilerle muhabbetlerini brutal vokalle yapıyor. Düşünün artık o derece gazdaymış adam. 1 dakka bile durup soluklanmıyor.
Yukarda göreceğiniz gibi okumadığı zamanlarda da muhtemelen gözleri yukarı kaydırmayla, piskopat görünmeyle uğraşıyordu muhtemelen.
Daha ne diyebilirim ki kesin bu bootleg'i edinin. Chris Barnes konserde nasıl yardırıyordu acaba diye merak edenler indirsin dinlesin. Cannibal Corpse ve Chris Barnes beraberliğindeki zamanlarda ne sakat işler olmuş, ne gaddar performanslar sergilenmiş görsünler.
Old School Death, Brutal Death, Death/Grind, Thrash Metal, Grindcore vs. ne işlerin peşinde koşturuyorsanız koşturun. Fakat bu kaydı kaçırmayın derim. Böyle sakat bir performansı dinlemek her insana nasip olmaz.
Chris Barnes ve Cannibal Corpse birlikteliğinin videoları için: