Her ülkenin dönemsel ve tarihe geçen korku kralları vardır kanımca.Onlar ya çektikleri filmler ile ya da kamera önünde sergiledikleri şeytani performansla bu tahta otururlar.

İşte İspanya da bu tahtın sahibi olan isim de Paul Nancy'dir.

Bu mevzu bahsi geçen tahtında oyunculuk hakkında olduğunu anımsatayım.Paul Nancy aynı,Vicent Prize,Bela Lugosi,Boris Karloff gibi canlandırdığı karakterler ile korku ikonudur.Yönettiği filmler de cabası.


1973 yılında Beyaz perde de gösterime giren El Jorobado de la Morgue aka Hunchback of the Morgue İspanyol korku sinemasının en değerli filmlerinden biridir.Javier Aguirre tarafından yönetilen filmin senaryosunu da yönetmene aittir.Aynı zamanda Paul Nancy ve Alberto İnsua da senaryonun şekillenmesinde görev almışlardır.

Bir çok tarz da filme imza atmış olan yönetmen çektiği kısa filmler ve korku filmleri ile daha çok ses getirmiştir.

Paul Nancy dışında filmde yer alan dönemin arjantinli vamp kadını Rosanna Yanni ve dönemin İspanya ve latin amerika B-movielerinde yer alan Antonio Pica lezzetli oyunculukları ile seyir kalitesini arttırmaktadır.


Filmin senaryosuna şöyle bir göz attığımız da,

Bir morg çalışanı olan kambur Gotho ağır bir yalnızlık çekmektedir.Aynı zaman da toplumum tarafından dışlanması,kasaba da yaşayanlar tarafından alay edilmesi ve bazen de doktorlar tarafından dayak yemesi onu zalim bir karaktere bürümüştür.Paul Nancy'nin canlandırdığı Gotho karakteri kesinlikle oyuncunun hayat verdiği en masum karakter olduğunu hatırlatmakta fayda var.


İnce bir hastalığa yakalanan İlsa adında ki hasta dışında kimse ile muhatap olmayan Gotho İlsa'nın ölümüyle iyice içe kapanır.

İlsa'nın ölümüne kadar Notre-Dame'ın Kamburu havasında ilerleyen film bundan sonra gelecek sahneler ile muhteşem Poe hikayeleri olan Murders in the Rue Morgue ve Black Cat var-i bir havaya bürünür.

Morg'da bir çok cesedi kesip biçen Gotho İlsa'ya bunu yapamaz ve onu yaşadığı zindana götürür.Tek dileği İlsa'ı hayata geri döndürmek olan Gotho bu süre zarfında bir kaç seri cinayet işler ve polisler tarafından aranmaya başlar.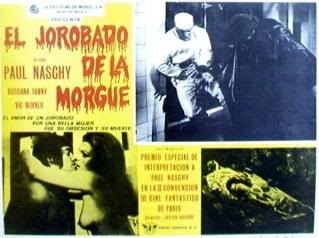 Bu esna da Gotho hastane de ki araştırmacı doktor olan Tauchner'a olaylardan bahsetmesi ile olaylar farklı bir boyuta girer.Zindan da bulunan İlsa'nın cesedi ise fareler tarafından kemirilmeye başlamıştır bile.

Dr.Tauchner'ın projesi ile ölü diriltmektir.Yanlızca yöntem olarak şimdiye kadar gördüğüm en acayip deli doktor yöntemini kullanır.Bütün organları kazana benzer bir deney kavanozundan biriktirip değişik bir formül ile harmanlar böylece yeniden yaşama döndüreceğini düşünmektedir.Böyle bir tarz bana şahsen H.P Lovecraf'ın Charles Daxter Ward Hikayesini fazlası ile hatırlattı.




Olaylar iyice zinadan çıkar ve süre gelir fakat Gotho'nu hayalleri acı bir şekilde suya düşmektedir.

Kurgusu ve oyunculukları ile 10 numara bir yapım olan El jorobado de la Morgue,kanlı sahneleri ile de gorecu adamı fazlası ile tatmin etmektedir.Film de en çok dikkatimi çeken mevzu ise doktorun yaratığı insanım sı canlıdır.1982'ı yapımı Swamp Thing adında ki Wes Craven imzalı film de ki yaratık kuşkusuz bu filmden esinlenilmiştir.

Killjoy'un da oldukça değer verdiği isimlerden olan Paul Nancy,yer aldığı bu film ile death metalci adama ilham veriyor.Son olarak kesinlikle B klasmanında korku filmlerinin müptalasıysanız mutlaka izlemenizi tavsiye ediyorum.

Lord magius/Haribo extreme culture aittir.